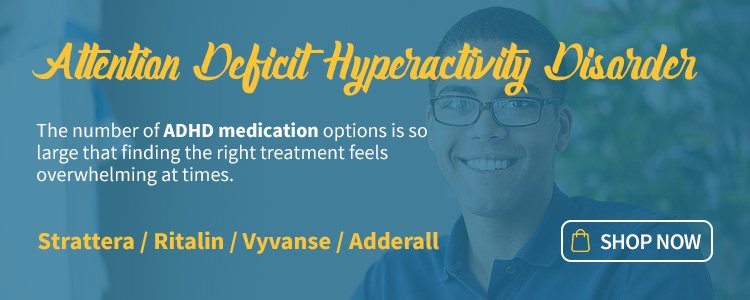 If you are a patient or parent of a child diagnosed with ADHD, your doctor may recommend Methylphenidate hydrochloride. In this review, you will get the access to information about Methylphenidate, and find out what are the expected effects and risks, associated with this medicine.
Methylphenidate hydrochloride is a mild CNS stimulant. It increases the concentration of neurotransmitters (norepinephrine and dopamine) in the brain. It is believed that a deficit of these neurotransmitters underlies the onset and progression of ADHD.
In a patient, who uses Methylphenidate hydrochloride, the following changes occur:
The speed of information processing improves.
Confusion is replaced by mental clarity.
Difficulties in relationships at school and at home disappear.
Memory, self-awareness and logical thinking Improve.
Methylphenidate was approved for alleviating the ADHD symptoms more than 50 years ago. Therefore, this medicine is well studied and is often used in clinical practice.
Dosage forms and recommendations for use
Several Methylphenidate hydrochloride dosage forms are available on the market. Today, you can buy:
Extended release (ER) 18 mg, 27 mg, 36 mg or 54 mg tablet.
Extended release (ER) 10 mg, 20 mg, 30 mg, 40 mg, 50 mg or 60 mg capsule.
2.5 mg, 5 mg or 10 mg tablets.
Tablets are taken 2 or 3 times a day before meals. ER Methylphenidate hydrochloride pills and capsules must be swallowed whole once a day (in the morning).
During the treatment course, Methylphenidate hydrochloride dosage may vary. The dosage regimen varies according to the severity of ADHD, symptoms duration, as well as the patient's age and his sensitivity to the drug.
Where Methylphenidate is administered to children, it is recommended to take a drug holiday from time to time (at least once in 12 months). This is done to assess the child's condition (usually during school holidays).
Methylphenidate hydrochloride Side effects
Check with your doctor, if any of these side effects persist or become bothersome:
Allergy
Tachycardia
Drowsiness
Insomnia
Nervousness
Headache
Dry mouth
Abdominal discomfort.
Like all drugs used to treat ADHD, Methylphenidate can cause adverse reactions. Most of them will be temporary and insignificant. However, some of them, for example, an allergic reaction, are of serious concern.
Symptoms of an allergic reaction include:
Rash, itching, or redness on the skin.
Swelling of the face, lips, tongue, or other parts of the body.
Wheezing or shortness of breath.
Overdose with Methylphenidate hydrochloride increases the risk of side effects. To prevent the child from swallowing an extra high dose of the drug, keep out of the reach of children.
Methylphenidate hydrochloride vs Adderall
Methylphenidate is not the same thing as Adderall (Amphetamine salts). Both drugs are used to treat ADHD, yet their chemical formula is different.
The question: "Which is better Methylphenidate or Adderall?" can not be answered in a definitive way. Both drugs are generally well tolerated and effective in the treatment of ADHD symptoms. Some patients respond well to one medicine and show a poor response to another.
You can start treatment with cheap ADHD meds. If they are ineffective, start using another drug. Do not be afraid to change the treatment. There are many ADHD meds that have been proven clinically effective.
Generic versions of Methylphenidate
Have you heard of such ADHD meds, as Concerta, Daytrana, Focalin, Methylin or Ritalin? All these are the brand names for Methylphenidate hydrochloride.
If you want to buy Methylphenidate hydrochloride at a low price, better not choose branded drugs. As a rule, they are more expensive than the ADHD meds, which are sold under a generic name.
Want to save as much as possible? Order Methylphenidate hydrochloride in an online pharmacy. Such pharmacies offer low Methylphenidate prices and convenient medical services. You can get useful information about medicines, diseases and a healthy lifestyle, which doesn't require you to leave the comfort of your home.